xperience the Maine Coast as generations have at the Driftwood Inn. Enjoy waterside porches, a saltwater pool and homestyle breakfasts and dinners. Sleep to the sound of the surf, rise to the spectacular view of Casco Bay and the working fishing boats and busy gulls along Little Harbor. The inn is a great place to build memories, reconnect and make new friends.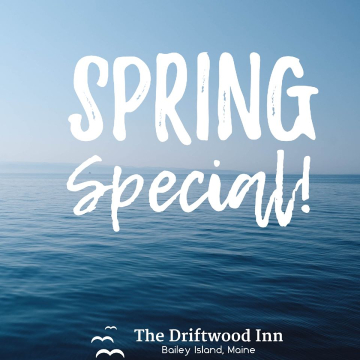 What better time than right now to start planning ahead! Join us this coming June for a two night special that includes two breakfasts and one dinner. The total cost of the room and meals is $390.00 for two people, any room or cabin!
The following dates are currently available:

- June 10/11
- June 17/18
- June 24/25

Act fast, these exclusive dates will go quickly! Contact us at thedriftwoodinn@gmail.com for reservations.


Contact us by e-mail for reservations. We look forward to seeing you!
"Spectacular views... from before sunrise till after sunset."
~N. Brown of Portsmouth, NH {10 years}